Location: Osaka, Japan
Duration: 2 days
Period: March 2018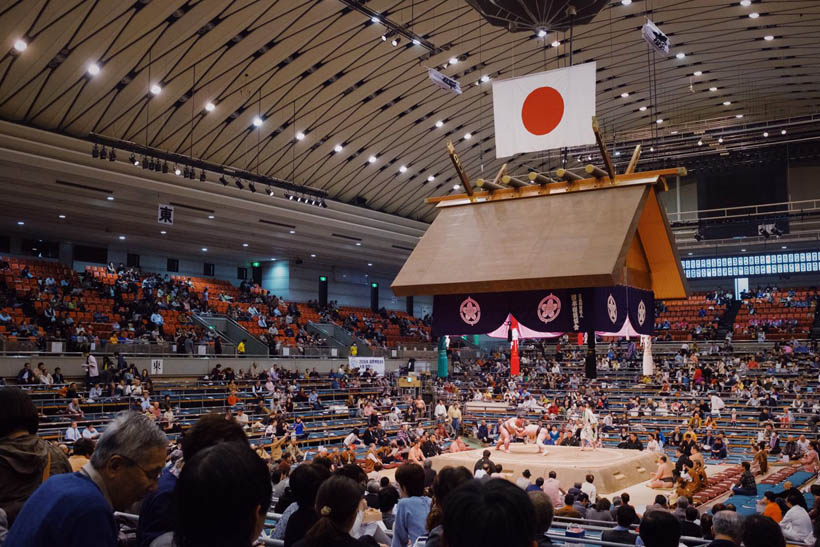 Osaka is the second largest city in Japan, and a central hub to quite a few important cities in the area, like Kyoto, Nara and Kobe. We went to Osaka via a short 30 minute train ride from Nara. The city is probably best known for its wide variety of high quality food, but we went there to attend the yearly Sumo competition, the honbasho, in the Osaka Prefectural Gymnasium (also called the Edion Arena).
Osaka style okonomiyaki and Shinsekai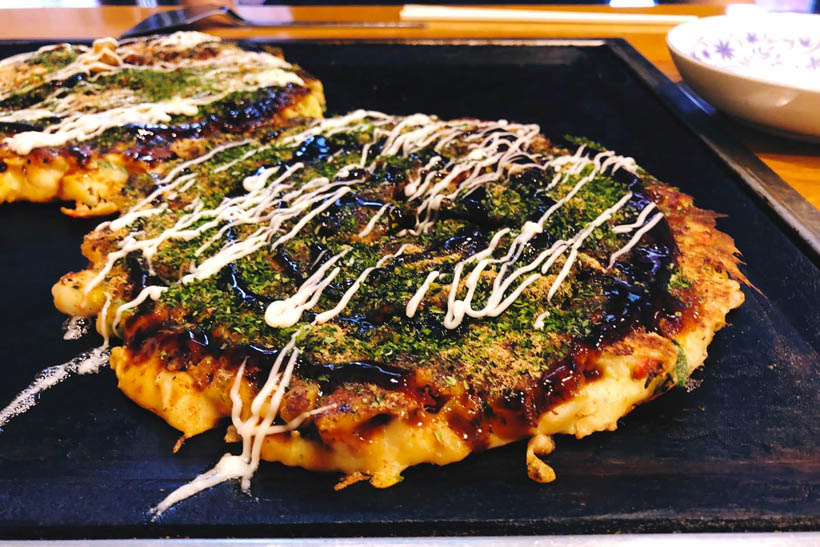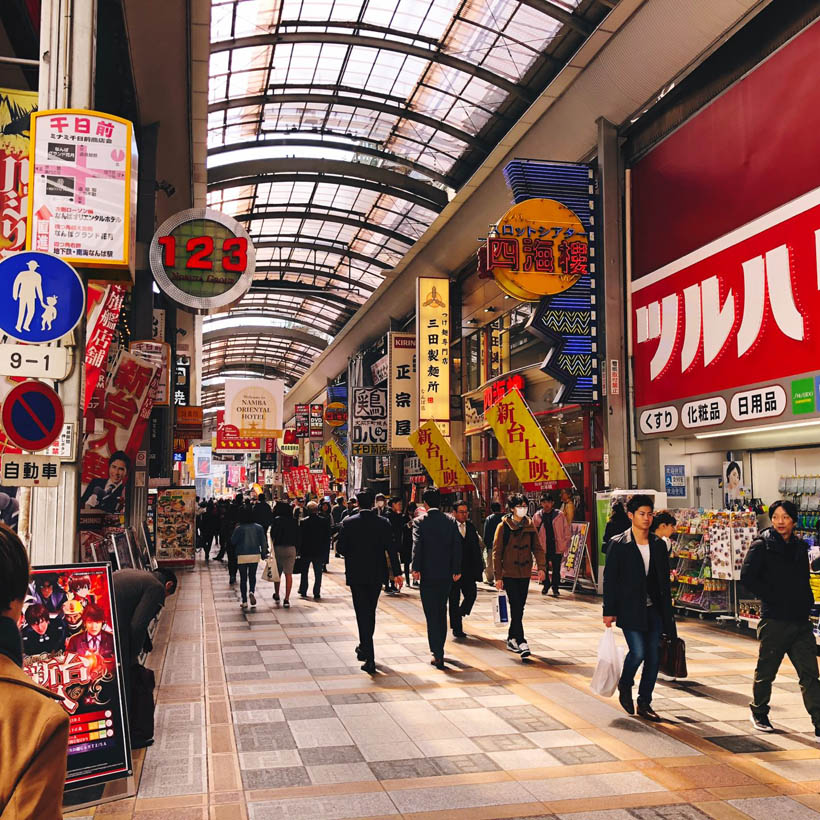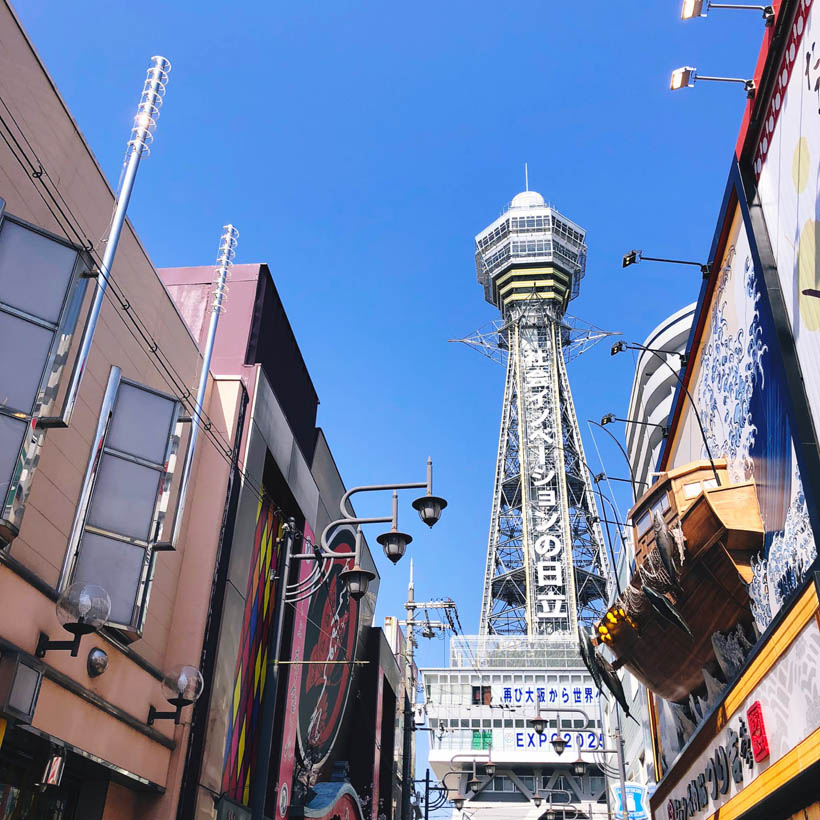 We arrived the day before our planned sumo day, so after dropping off our bags at our hostel we went out to discover the city a bit.
We heard from countless people that we should definitely try out the Osaka variant of okonomiyaki, a pancake dish with lots of eggs, cabbage and flour inside, on top of a variety of other stuff like meat, fish and dashi.
We found a highly rated restaurant on Google close to our hostel, and after wandering around a bit (it's not easy to find a restaurant in Japan when you can't read its name) we entered a small eatery in the Ebisuhigashi area. We ordered the speciality dish of the restaurant: an okonomiyaki dish with pork belly, minced meat, octopus and more inside. The dish was made at the counters of the restaurant, where the chef did its thing by mixing everything together and cooking it on his griddle. Afterwards, they would bring us the dish on large spatulas, to drop it on the hot griddle that was mounted in the center of our table. This griddle kept the okonomiyaki at its hot temperature while you carve off pieces to eat.
Describing okonomiyaki is a bit difficult: every ingredient has its own prominent taste without overpowering anything. It's a delightfully confusing dish with a totally unique flavour. Be warned though: it's not recommended to treat this as a light snack in between. It's a very hearty dish that doesn't leave your stomach empty afterwards.
To digest this savory meal we went for a walk in the nearby Shinsekai area, an area that seemed to be quite popular with the local youth. We strolled around for a bit, bought a few stickers for our travel journals in a nearby stationary shop and had a energizing coffee in a trendy cafe (called The Pax) with a slide inside to get back down from the first floor.
Dotonbori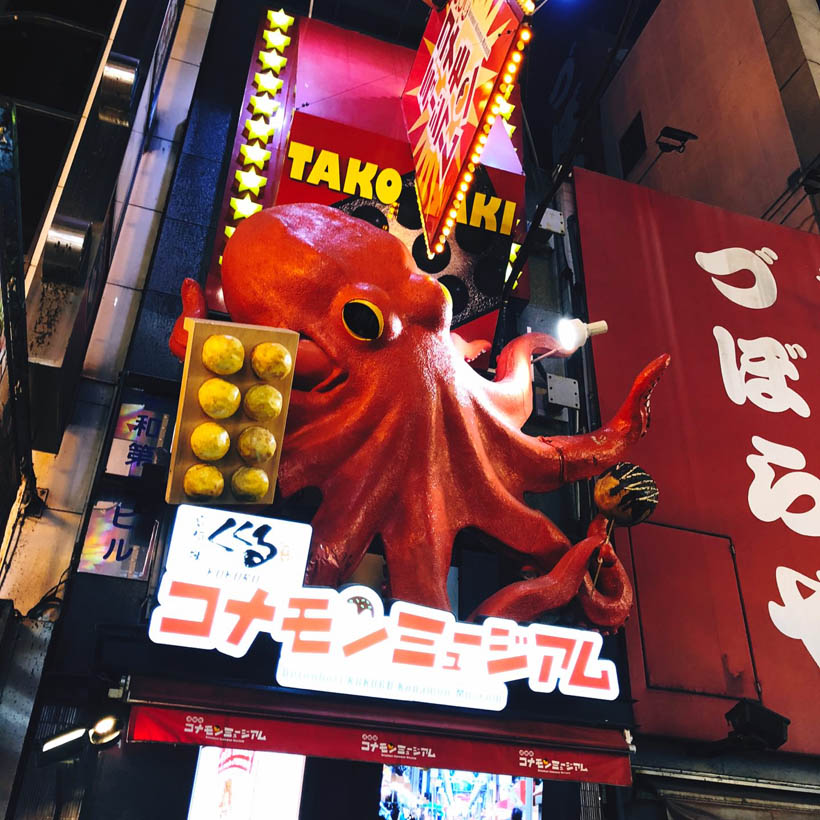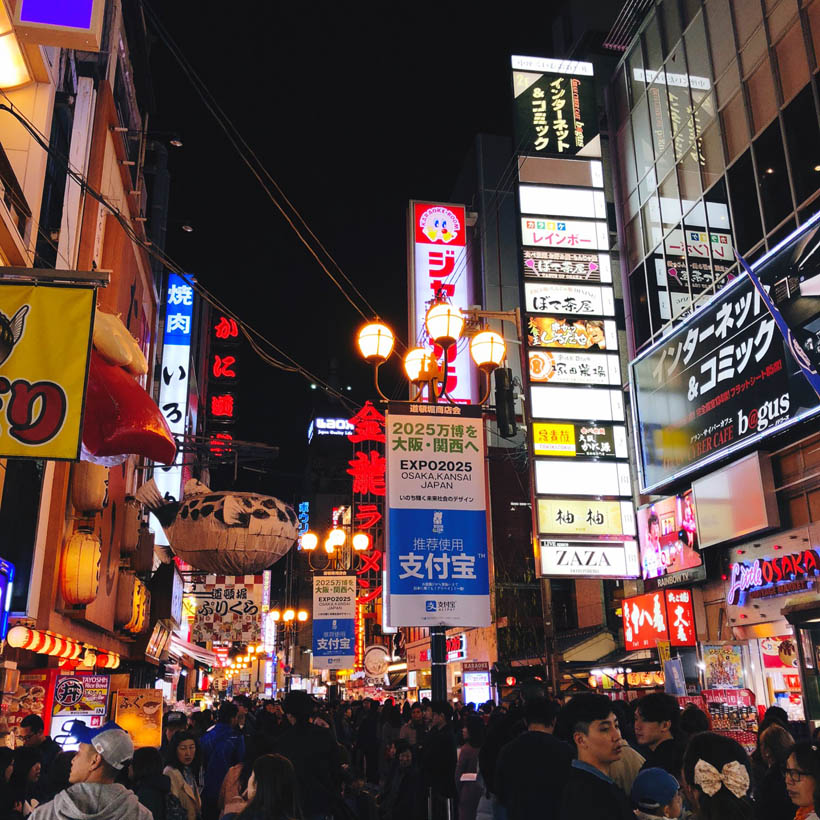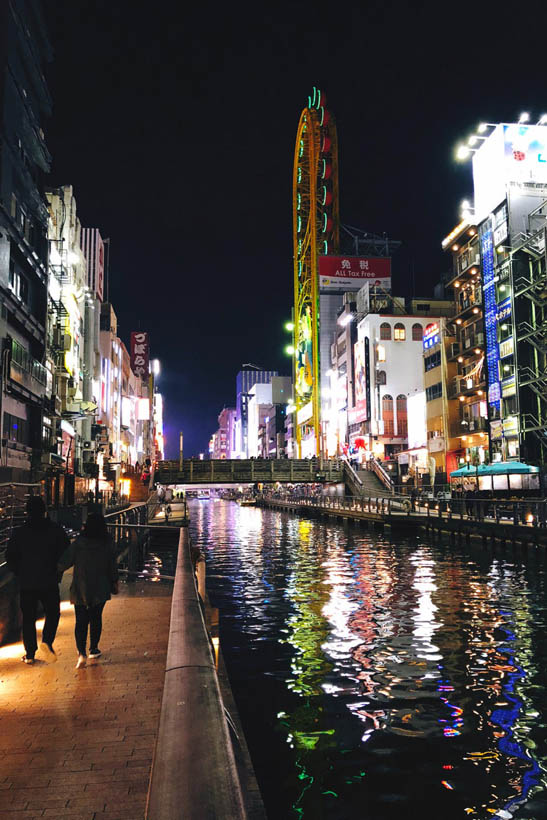 In the evening we went through the busy Namba region to get to Dotonbori, a restaurant packed area running next to the Dotonbori canal. It's one of those areas that are a must visit in Osaka, even if it's just to experience the blinding amounts of neon lights in the streets and the huge crowds waiting to get a bite to eat at one of the many snack bars.
We ate a few takoyaki balls at a restaurant with a huge octopus hanging over it as an appetizer before going on a quest to find something more substantial to eat. A quick search on Yelp gave us a nice looking place near the central station, but when we went in we were confused as the restaurant looked like a cheap chain restaurant, dirty tables and a terrible looking menu.
Gyukatsu Tomita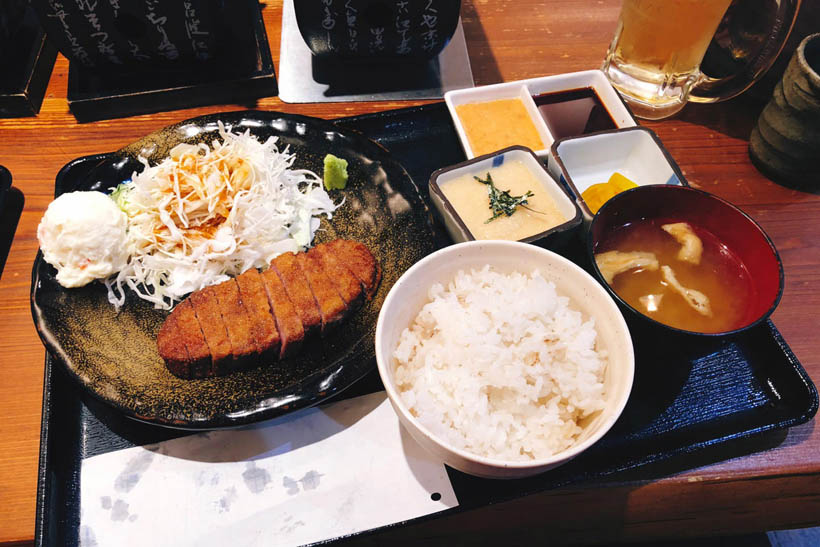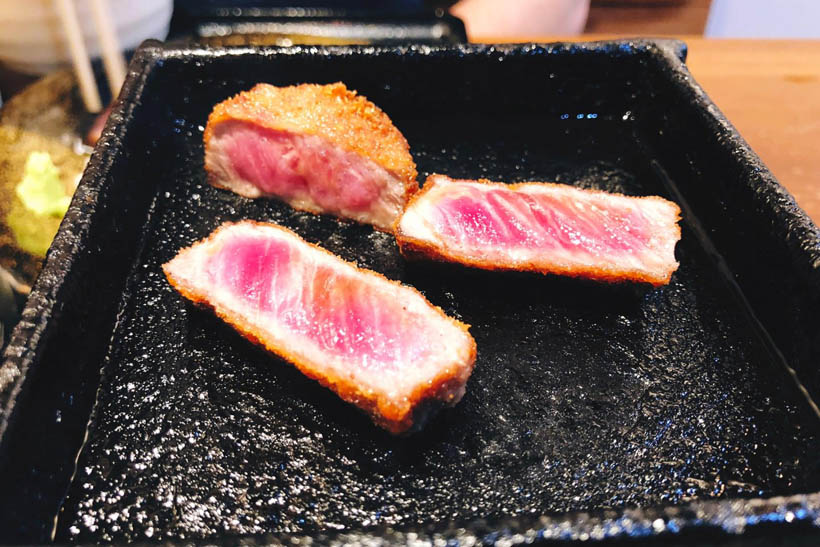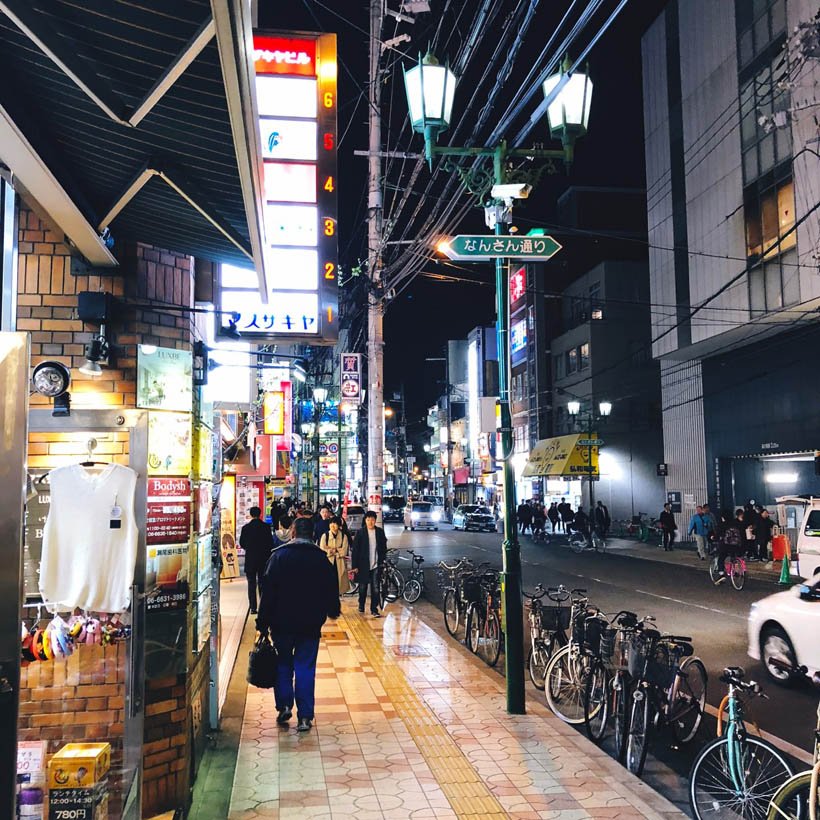 We quickly found out why: the restaurant we were looking for was at the same address, but it was located upstairs, something that seems to be a perfectly normal thing in Japan. We quickly changed floors and finally got to the place we were looking for: Gyukatsu Tomita. The place is known for its gyukatsu, deep fried beef covered with breadcrumbs served with cabbage and yam. It's a simple yet effective recipe, as its taste was amazing. Together with our okonomiyaki just a few hours earlier this was one of our food highlights of the full trip.
The sumo tournament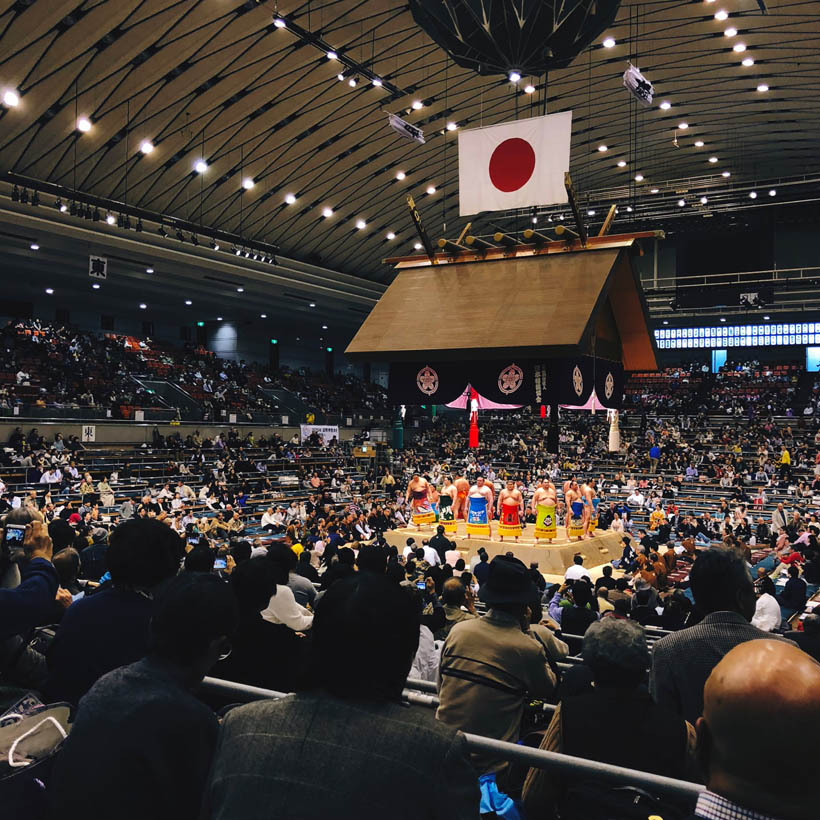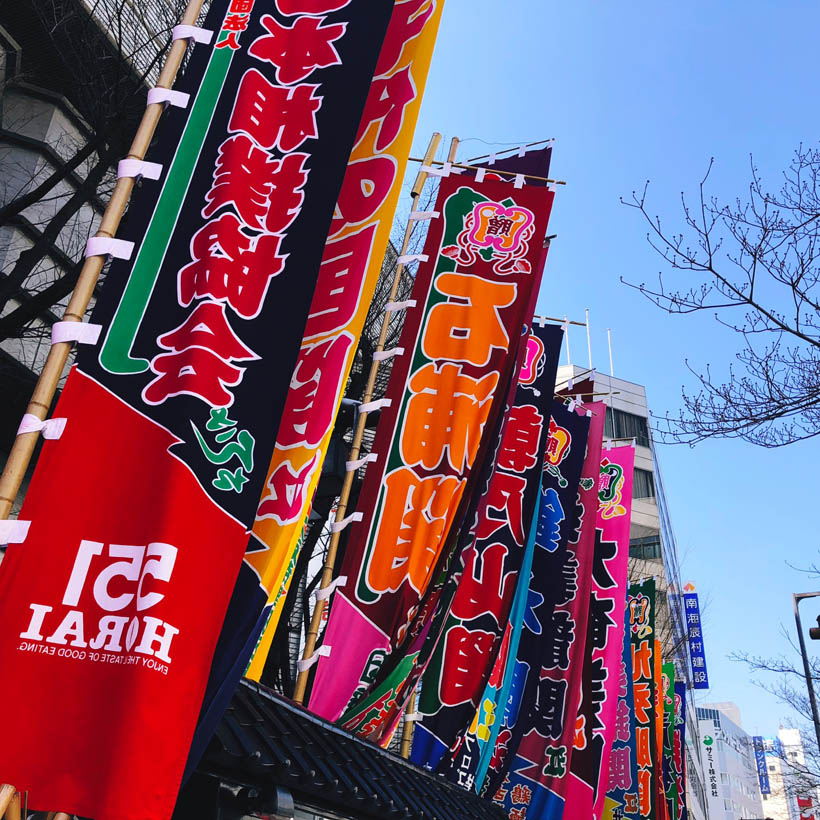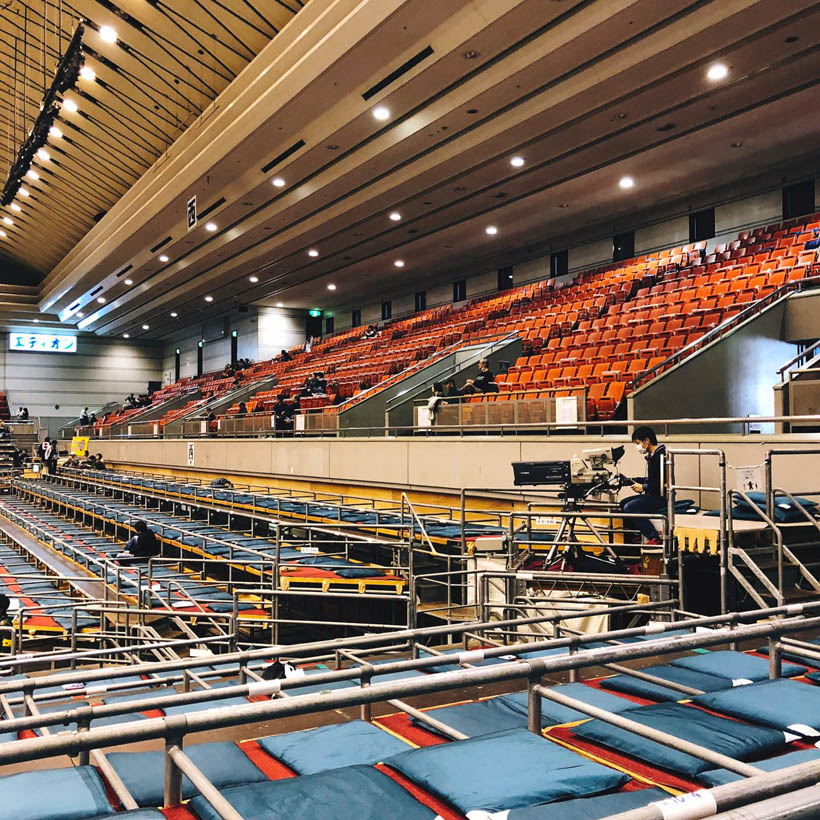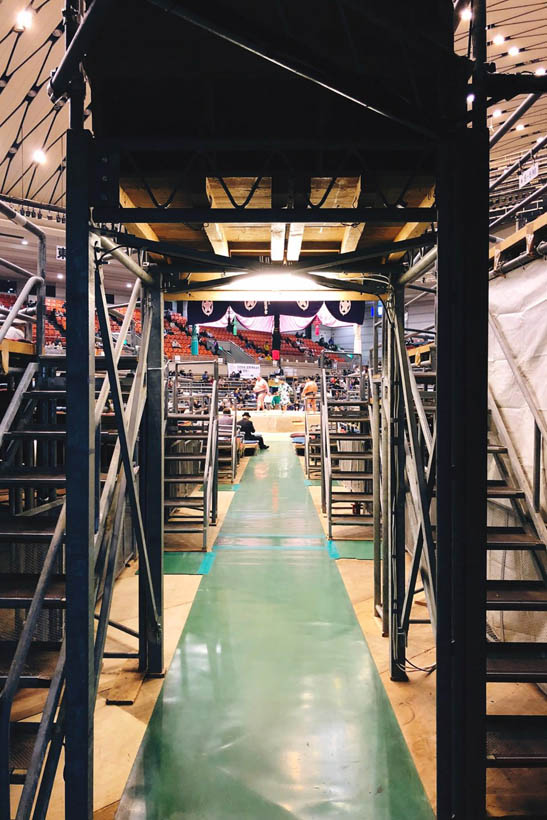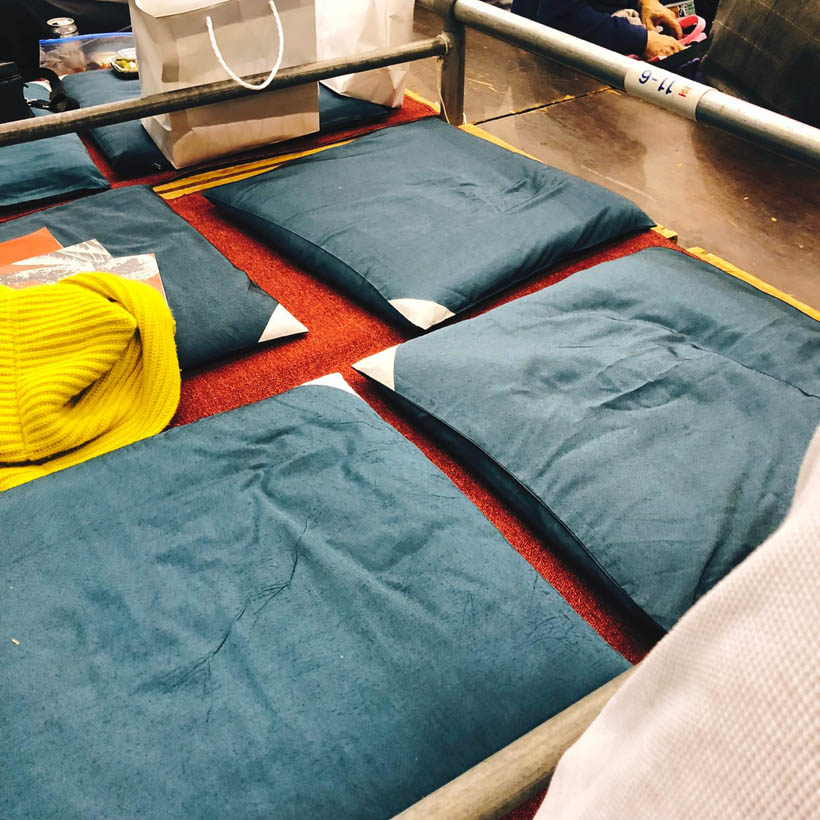 The day after we prepared ourselves for the honbasho, the yearly sumo championship in Osaka. These tournaments are organised 6 times a year across Japan, and in March the spring edition (the haru basho) takes place in the Osaka Prefectural Gymnasium.
For those that don't know the sport: sumo revolves around two wrestlers fighting to throw each other out of the ring (the dohyo). These professional wrestlers together train at sumo stables throughout the year, and this commitment also translates in a carb rich diet to gain weight as efficiently as possible, which helps in getting the upper hand while pushing your opponent off the ring.
Our friend is a big fan of the sport, so we actually scheduled our trip around this event. We ordered our tickets via Buy Sumo Tickets a few months before (these tickets sell out fairly quickly), which was very fast and easy (and fully in English). Their service delivered the tickets to our hostel a few days before we arrived, which were in turn nicely delivered to us on check in. Neat!
We bought box seats, which are located relatively close to the stage (but not close enough to get squished by a sumo wrestler that gets thrown off the stage - which happens all the time), but as these boxes only contain 4 thin pillows they were very uncomfortable to us (we aren't used to sitting cross-legged at all).
I think if we were to buy tickets again, we would consider getting seated tickets at the back of the arena. These are a bit further away from the stage, but they looked way more comfortable. Keep in mind that these seats are (in contrast with our boxed seats) not numbered, so either you get someone to guard your spots or you risk having to find a new place if you get something to eat.
Also: we got a bento box at one of the small shops in the venue, but the food inside wasn't great (especially as it was not cheap at all). The box itself was nice enough to keep as a souvenir, though.
The event itself starts with the lower divisions wrestling with each other in the morning, and in the afternoon the higher division bouts take place. Most matches only take a few seconds at best, but it's wonderful to see the whole arena tense up right before two heavyweight champions clash into each other.
Most of the time in between the bouts is spent by the crew preparing the ring, sponsors getting presented on that same ring, and various rituals done by the wrestlers themselves (like throwing salt across the ring to purify the stage). It's a very relaxed atmosphere all around, where people are having a good time with friends to celebrate their heroes.
Other posts about this trip
Hakone (coming soon)
Hakodate (coming soon)
Sapporo (coming soon)
Otaru/Yoichi/Noboribetsu (coming soon)