Over the years we've found ourselves looking for weird and new potato chips flavors whenever we're traveling, as we've noticed that these snacks are popular all over the world, but the common flavors vary greatly across borders.
Most of the time we could find plain salted chips everywhere, but otherwise the default flavors are unique in each country.
For example: in Belgium Paprika chips is the most common flavor, in the United Kingdom it seems to be Salt & Vinegar. The United States apparently loves Sour Cream, and Japanese convenience stores are filled with Seaweed chips.
These snacks start to become interesting when you look for the unique flavors that you probably can't find anywhere else (like Wagyu Beef Chips in Japan), and as they tend to be dirt cheap and (often, but not always) delicious it shouldn't come as a surprise that we try them out as much as we can.
At the beginning of last year we found ourselves in Thailand, and of course we went to the local 7-11 convenience stores to find new chips flavors to discover. If we had room to spare in our stomach after eating all the other delicious dishes the country is known for, that is.
Here's a list of the things we ate, and what we thought of them:
Lays Mieng Kam Krob Ros Flavor
Very noticable lemongrass flavor with an extra layer of lime. Not spicy at all. There's a faint taste of shrimp noticeable. Sweet.
Verdict: Pretty good!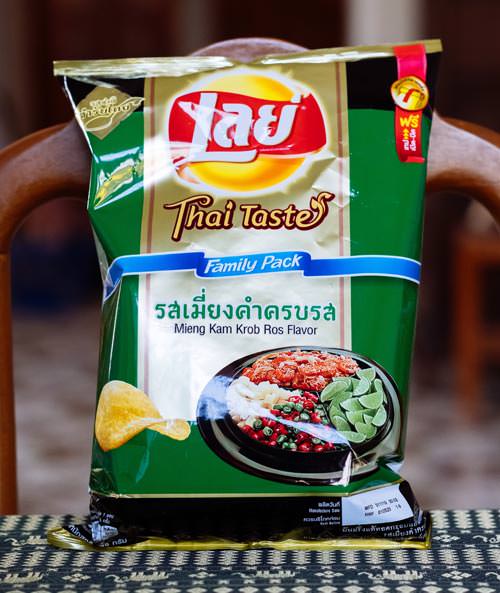 Lays Saengwa Prawn Salad
Fairly complex flavors: you can taste the mint, lime, lemongrass and shrimp all at the same time without them getting mixed up together. Maybe also a hint of fish sauce. Very refreshing and very close to the real dish.
Verdict: Great.
Lays Spicy Lobster
Powdery texture, similar to Pringles chips. The lobster taste is refreshing and a bit salty. The dash of lime taste gives it a pleasant sourness. Slightly spicy.
Verdict: Good.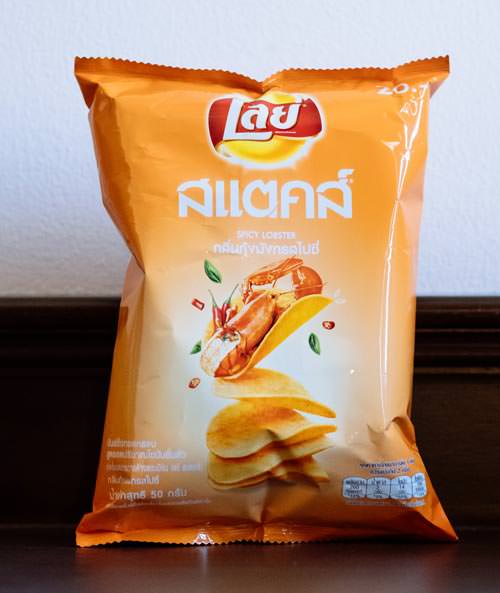 Lays 2 in 1: Grilled Prawn and Seafood Sauce Flavor
2 types of chips mixed together in the same bag. Grilled Prawn: very dominant taste of prawn. Maybe a little bit too much to my liking. Surprisingly not spicy at all, but there's a subtle smokiness to its profile. Seafood Sauce Flavor: very sour taste (like the real condiment). A bit spicy, a bit sweet.
Verdict: Decent but not really balanced.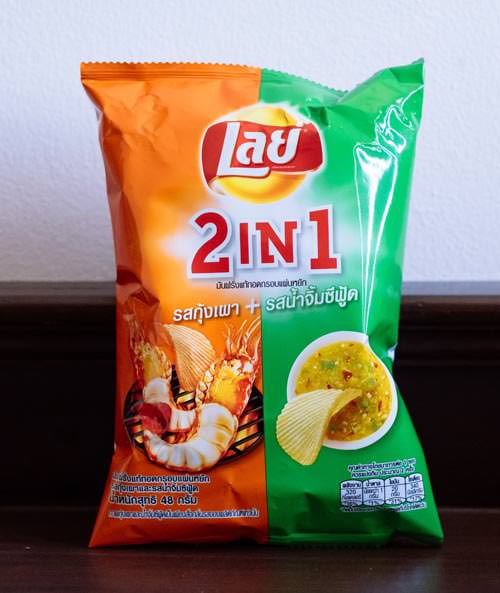 Lays Salted Egg Flavor
Tastes like its name: like egg yolk and salt. Very bizarre taste, some will love it, but it could be off putting for many people. Creamy texture with a bit of funk.
Verdict: No, didn't like this at all.
Lays Crab Curry Flavor
Very pronounced yellow curry flavor. Slight sweet taste of crab, but very subtle.
Verdict: Tasty!
Lays Green Curry Flavor
Tastes remarkably like real Thai green curry. The coconut milk flavor is very noticeable, together with Thai basil and a bit of lemongrass. Starts to become quite spicy after a while.
Verdict: Good.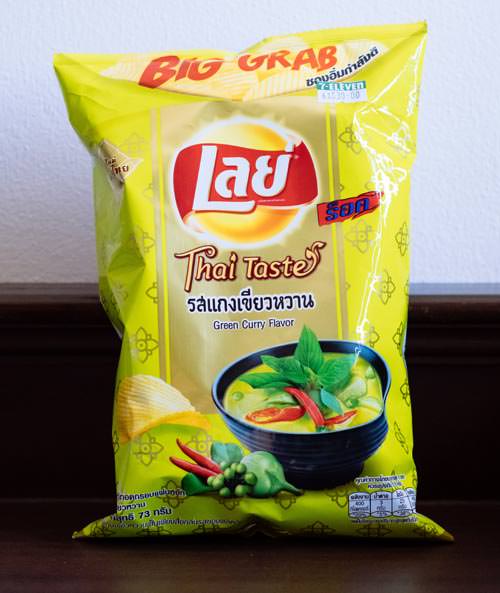 Taro Spicy Octopus Flavor
Sticky texture, as if the surface is covered with a coat of sugar. Way too spicy but the octopus flavor itself is alright. Not a lot of chips inside of the bag.
Verdict: Disappointing.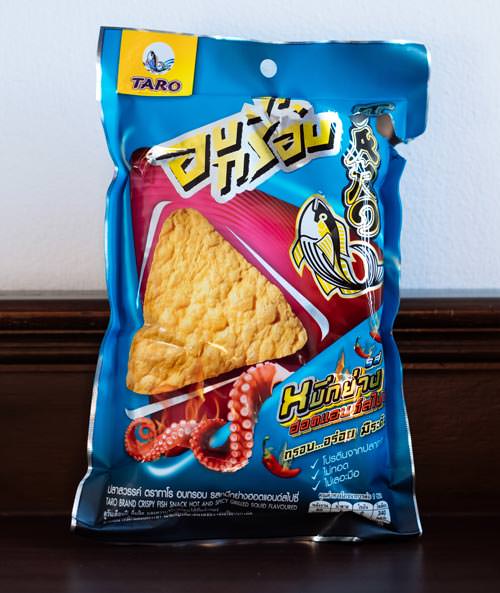 Lays Extra Barbecue Flavor
Salty and covered with smokey barbecue spices. No heat.
Verdict: Unremarkable. This seemed to be one of the default flavors in Thailand.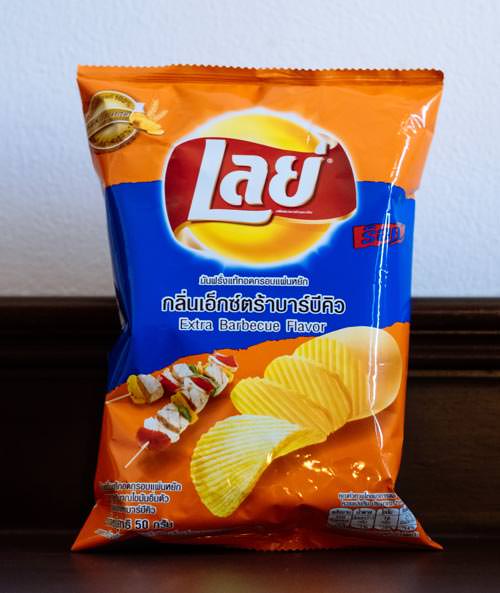 Lays Sweet Basil Flavor
Salty and sour (because of the lime). Also has a subtle tomato flavor? Hard to define. The sweetness of sweet basil is there.
Verdict: Decent, but nothing too special.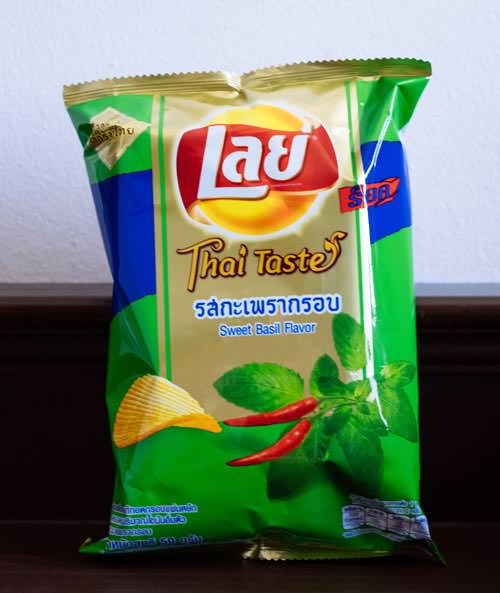 Lays Basil Chicken Flavor
Tastes like chicken stock and vegetable oil, with Thai basil on top and a subtle undertone of fried rice. A bit spicy, and the heat lingers on for quite a while afterwards.
Verdict: Tasty.